-----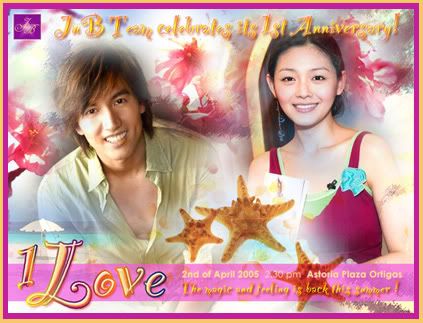 Join
JnB Team
as it celebrates its 1st Anniversary...
1 LOVE : The magic and feeling is back this summer!

Date :
2nd April 2005 Saturday
Venue :

Astoria Plaza Ortigas
Time :

2.20pm - 6.00pm
Theme :

Hawaiian Attire is a PLUS but not a MUST

:

)
Ticket Distribution : (Philippines)

March 18, 2005 Sat 3pm Megamall, Pasig City
March 18, 2005 Sat 3pm Glorietta, Makati City

-----


from

Kulas

...


Yes, ONE LOVE is ALL WE NEED...

"One love for the mothers pride
One love for the times we cried
One love gotta stay alive.... Oh WE will survive

One love for the city streets
One love for the hip hop beats
One love oh I do believe
ONE LOVE IS ALL WE NEED! "

Yahoo!
The HEAT is ON!
JNB - ONE FOREVER LOVE!!!

-----


Thanks to

Teesa

on 30th March.


People's Tonight


News About

JnB

1st Anniversary

by

Nitz Miralles





(English Translation)




Congratulations to the

JnB Team (Jerry Yan and Barbie Xu)

who will be having their

1st Anniversary on April 2 at Astoria Plaza, Pasig City.

They will celebrate their anniversary in a Hawaiin Motif Party with a theme "1 Love: The Magic and Feeling is back! Everybody is advised to come in their best Hawaiian costume.

To Guinevere, thanks for inviting us and we'll do our best to attend. For sure this will be fun since we saw that so many have already confirmed to attend.

There's a limited souvenir items for the first 60 ticket holders, so, let's go.

-----

from

Cutie Dear

on 31st March.


cutiemimiluv (8:02:26 PM): hello dear, wishin u great moments too. tc
cutiemimiluv (8:02:26 PM): ow its on sat already i hope it would be a blast....def a blast isnt it? hehe
cutiemimiluv (8:02:26 PM): take care dear till next. bye2.

suwanie (8:02:44 PM): heloo my dear
suwanie (8:02:54 PM): yup gosh i wish to be there on sat dear !
suwanie (8:02:58 PM): oh wait for me kay
suwanie (8:03:13 PM): hehe i wanna be in registration counter like last time
-----
Meet such lovely and wonderful
JnB Sisters
and find more about the Anniv, JnB World etc in
http://jerryandbarbie.cjb.net
where i met very kind,amazing and pretty friends, or shall i call it as sisters ! Love all of you !