1. Copy badge "2008 cute's 3logger Award" di atas untuk diletakkn di blog anda.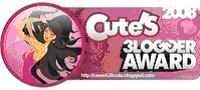 oretttt



2. Link / n citer kan kembali siapa yang memberi award ini kpd anda.
Huda :) ~ sorry darling, giler lambat reply huhuu

3. Setiap blogger mesti menyatakan 10 fakta / hobi diri sendiri sebelum memilih penerima award seterusnya (anda di tag)


1. i love to eat hehehe hubby jangan marah tawww ! especially thai food ! tom yam and cheese cake ! yummyy owww and also my hubby special spaghetti bolognese recipe. siap ada meatballs kay :D

2. love to kemas-kemas rumah, and basuh pinggan. paling best bila tengok rumah kemas n teratur.

3. love to discuss or argue almost everything with darling hubby. itu lah kata jodoh kan kan. people say ~ get married with someone that you love to talk. i love my hubby !

4. love to read any articles, especially about parenthood and baby stuffs. definitely love to play around with our little adham akhtar.

5. love to travel. even though habis duit tapi hati sangat heppi :D ... moga diizinkan-Nya travel ke Perth.nak bawak hubby and adham tengok kangaroo *amin*

6. love to listen to any soft, pleasant, lite and easy music.

7. sometimes i impose strict disciplines and hard time towards myself. for example, i plan to basuh baju + masak + jemur baju + sapu lantai + iron baju dlm masa yg sama. then i got tension huhu... now i learn to just do yg termampu je. tak mo tension tension. tak best.

8. plan to exercise and join bebudak ni pi dance (latin or mix dances). nak kurus you !

9. best to have sometimes chit chat with precious frens. gossip + sembang over everything under the sun + makan-makan.

10. hopefully dapat belajar skill memasak from mak mertua. she is trully a wonderful cook. plan to kumpulkan semua resepi mak and then buat buku ~ resepi mak mertua saya

4) pilih 5 penerima award seterusnya n nyatakan di blog anda. (sorang je la ek)
safurah ~ visit her nice blog

5) jgn lupe melawat blog kawan anda yg telah di tag n menyatakan dia telah telah di tag.
of course !